Cambodia. There is … Angkor Wat, right? This famous temple complex. Yes. Cambodia is really famous for Angkor Wat in Siem Reap. Thousands of tourists visit this temple complex every day. And for some this is the only reason to come to Cambodia. I mean yes, Angkor Wat is a huge part of Cambodias whole culture – but there's so much more to see and explore. In this article I wanna tell you more about a three week itinerary for Cambodia.
Travel alone, with your backpack. Discover years of history and religion. Including one week at an elephant sanctuary. Start and end point is in Bangkok. I travelled Cambodia in Feb 2018. Is one week enough? Definitely not. At least three weeks. Slow travelling. Soak everything in. Enjoy every moment. Mindful and respectful.

After a long flight it's time to fully arrive in Bangkok. To adapt to the new climate, food and maybe even experience the first culture shock. Definitely try mango sticky rice and a fresh cold coconut – so delicious!
Discover:  Visit the temples, wander around, go on a boat ride on the main river Chao Phraya, enjoy a massage and end the day with a nice cocktail in one of Bangkoks skybars. Don't put too many things on your to do list, rather go with the flow and observe. Believe me, you'll find places you didn't know they even exist.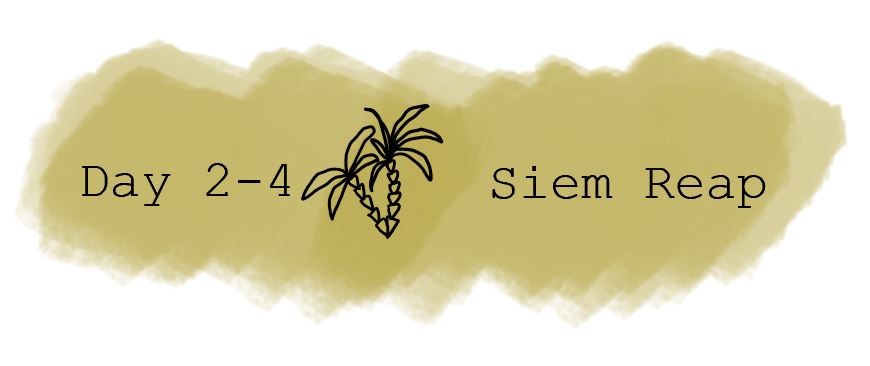 The first stop in Cambodia is Siem Reap. A small city, which is located very close to Angkor Wat. To visit the temple complex there are 1, 3 or 7 day passes. If you have a lot of time I'd recommend going for the 3 day pass to see 2-3 temples a day (maybe even by bike?). I went to see Angkor Wat within a day. Our tuk tuk driver (25 USD) picked us up at 4.30 am. After around 45 minutes we bought our tickets (37 USD) and got to the main temple Angkor Wat. It's best to go there for sunrise. Caution: Many many people! But it's worth it. After around two hours we told our driver which temples we wanted to see next and he brought us there. The whole complex is very widespread so I can highly recommend hiring a tuk tuk driver or renting a bike. And bring lots of water! They have many restaurants and places to drink on site though. A sunset is the best thing to end the day with. After that go back to town to have dinner and maybe spoil yourself with a foot massage (4 USD). More things to do in Siem Reap are attending a cooking class (I loved Lily's Secret Garden) and doing yoga. Furthermore they offer day tours to Battambang (you could also add this stop to your itinerary) and to the Floating Village.
Getting there:  How to get from Bangkok to Cambodia? There are plenty of options. I booked the Giant Ibis bus (32 USD) on the internet even before I came to Thailand. We crossed borders without any problems – the bus company took care of everything. They also offered breakfast and lunch on the bus. Normally the visa costs 30 USD, in this case it was 40 USD as the staff prepared all the required documents. There's also the option to fly to Siem Reap, but the whole border crossing and seeing the landscape is worth the 7 hours bus ride!
Very important: Don't forget to bring a passport photo. Otherwise you'll pay extra. Btw, you can pay the visa in USD or in THB.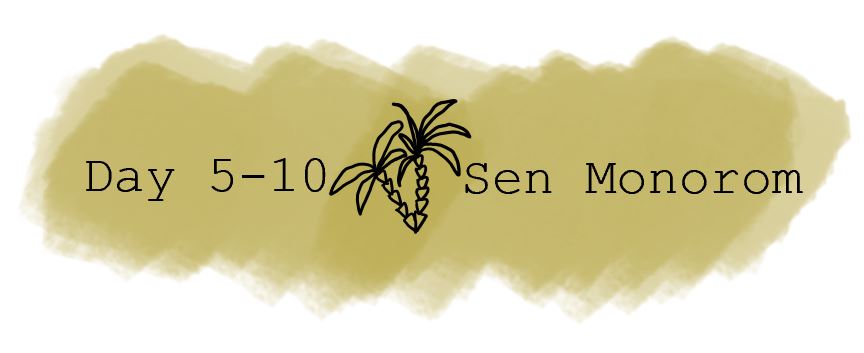 There's no better way to learn about a country, culture and its animals than by volunteering. Before my trip I did some research and found the EVP Mondulkiri project. They have more than 10 elephants who live in the jungle and can roam around freely. As these beautiful creatures had tough times in their lives and can't survive in the wild they get taken great care of in the shelter. Apart from the elephants EVP educates the local people, gives them jobs and health insurance. In Feb 2018 they employed around 80 locals. As you can tell this project is not about making money, but more about creating a sustainable circle. Tourists come to see elephants in a respectful way, they pay for that and finance a sustainable projects. Locals get the chance to educate which is good for the following generations. Plus the elephants don't have to suffer anymore. Win-Win-Win! More about EVP: https://www.elephantvalleyproject.org/.
EVP offers 1, 2 and 5 days programs. I booked the 5 day program, to get the full experience. The costs: 450 USD including accommodation and food. 
Getting there:  I checked some travel agencies in Siem Reap and decided to take the Minivan – 18 USD. Duration: 12 hours.
Itinerary:  It's gonna be a wonderful week, that's for sure! You can either sleep in a dorm or a private bungalow. Jungle sounds 24/7. Cold showers in the middle of the jungle. Eating fresh fruits and delicious Cambodian dishes. Learning about the way of life and culture of the local Bunong people. Being with nice people from all over the world. Spending the WiFi-free evenings together in a treehouse with jungle view. And of course: Elephants. More than 10. Each of them has a different story and different characteristic features. Every day you will meet one of them, hear about their story, their behaviour and their health status. PETTING? NO THANKS! Let's show some respect and not stress these creatures by being selfish. If they really need cuddles I'm sure they'll approach you. The other part of the day you'll do some manual work. Cutting banana trees for the elephants or building new furniture out of bamboo for example.
What to bring:  EVP will send you a list beforehand with the most important things to bring. My top 3: Moscito repellant, sunscreen, open mindest.

Part of Cambodias history is cruel. The more important it is for us to understand this part and to understand the country and its people better. The best place to do that is Phnom Penh, the capital of Cambodia.
Getting there:  There is a night bus with beds from Sen Monorom to Phnom Penh at 10.30 pm (10 USD). ETA is 4.30am. From the bus station you can take a tuk tuk to your hostel (around 3 USD). In case you're travelling alone and don't want to spend the night in a bed with a local (which is totally fine, but maybe you feel more comfortable if you're sleeping alone) you should ask for a single bed.
Discover:  I spent the first day in the pool and explored the city by feet. In the evening I went to the night market and got a massage. You can enjoy a great view from the Eclipse Skybar – cheap cocktails and nice breeze. Day 2 in Phnom Penh will be a bit sad: It's time for the Killing Fields and the S21 prison. Definitely go for the audio guided tour. It's super interesting and you can go through the place in your own pace.

Is there a better way to end your holiday than by going to an island? Sun, beach, go slow. The perfect place for me was Koh Rong Sanloem. Samloem or Sanloem? Both works. Sanloem means "far away". There's also the bigger island Koh Rong, where I heard you can party very well. I decided to go for the little sister tho.
Getting there:  Within six hours you can get from Phnom Penh to Sihanoukville by bus (10 USD). Better take the 8am bus which arrives at 2-3pm in Sihanoukville. From there you can take the ferry (45 mins, 22 USD both way) to Koh Rong Sanloem.
Discover:  The vibe on Koh Rong Sanloem was very chilled. I've never seen an island as calm as this one. And I absolutely loved it! Fresh fruit, good restaurants with Khmer food and living right on the beach for a good price. Go for a 45 minute walk to the clearwater bay. Turquoise water, incredibly clear! If you start from the main pier you just have to walk past the Yellow Moon Hostel, follow the signs and walk through the jungle. The best spot for sunset is "The Cliff". I saw some really nice sunsets. You can also go on snorkeling tours. Or you just relax in a hammock.
Food:  Secret tip. I had the best Cambodian food in a small restaurant on the way to "The Cliff". They're also offering eco snorkel tours. "The Hornbill" has the best fluffy pancakes.

A spontaneous stop on my route was Kampot. Many people recommended going there so I gave it a try. And it was worth it! Beautiful scenery, good food, cheap prices and national parks.
Getting there: Take the ferry from Koh Rong Sanloem to Sihanoukville. From there get on the bus (2-3 hours, 7 USD) to Kampot. You can book the bus on the island.
Accommodation: Normally I'm not a fan of giving recommendations regarding hostels, but I have to tell you about this one! The Daom Djah Spirit is unique. It's around 5 km outside of Kampot town. So maybe it's best to rent a scooter – you're more flexible anyway and you can go see the countryside. You can either get a scooter in town (4 USD) or in the hostel (6 USD). The hostel itself is very nice – dorms are in wooden bungalows, they have nice food and an awesome chillout area with view over the Bokor Hill. The "showers" are a big pot of water and a ladle. The compost toilet works without flushing, but you use wood shavings. Told ya – it's unique. Nice atmosphere, people and you sleep on a mattress with a moscito net, surrounded by jungle sounds (you definitely won't have them in Kampot town).
Food: Go to the Epic Arts Cafe in town. Delicious pastries, fresh juices and much more. The best thing about the cafe is that they employ disabled Cambodians. I prefer cafes which employ local people anyway.
Discover:  Definitely do a trip to the pepper plantation "La Plantation". It's only 20 USD a day by tuk tuk or you go by scooter. At the plantation you can do a pepper tasting and you'll get an insight in how they plant and process the pepper. Costs: None. Plus: They not only have pepper, but also fruits, salt and tumeric. Other activities are renting a kayak and float over Kampot river, visit Bokor nationalpark by scooter or attend a yoga class (Bantean Women Spa, 5 USD). 

Another beautiful travel comes to an end. But: "Don't cry because it's over, smile because it happened."
Getting there:  There are two options of getting back to Bangkok. The cheaper one: take a bus from Kampot (30 USD). It leaves at around 3pm and takes 13 hours. The more expensive one: take a bus to Phnom Penh (7 USD) and then fly to Bangkok (around 100 USD).
To sum up: Cambodia is a beautiful and very special country. It's definitely worth going there for a few weeks. I went there with no to low expectations and they were definitely surpassed by far. Travelling alone as a woman is also no problem. The Cambodian people are very nice and friendly. Akhoun Kampuchea – I learned so much.